The Curriculum
Curriculum INTENT Statement Kings Hill School
Intent
The breadth of our curriculum is designed with two goals:
To provide a coherent, structured academic curriculum that leads to the mastery of knowledge and skills learnt.
To give all pupils a wide range of experiences to develop as a confident, resilient, respectful and motivated individuals prepared to be global citizens of the future.
Design
Our curriculum is ambitious. It is knowledge based with regular opportunity for retention whilst also securing the necessary skills to become successful independent and expert learners. It builds on the school's strengths including well developed SMSC provision, embedded school and British values, outdoor learning and enrichment. Children are developed as valued individuals with an emphasis on health and wellbeing both physically and mentally. Subject Leaders have designed the curriculum to ensure that it is relevant and contextual both locally and globally to develop a deep understanding of the changing world and community that we live in.
Themes
We have developed six main curriculum themes that fundamentally underpin our curriculum aims and design. These themes encompass our values based ethos, reflect the strengths of the school and are responsive to the needs of our community and the ever changing wider world around us:
Communication

Expertise

Innovation

Individuality

Real World Engagement

Wellbeing
Implementation
Our coherently planned academic curriculum is underpinned by our curriculum themes and uses the EYFS or National Curriculum (DfE 2014) as the basis for content and expectations. We have structured this as follows:
All year groups have curriculum maps for each Term including key expectations for each subject, values covered, community links, life skills and PSHE focus.
Foundation subjects have a knowledge organiser consisting of Tier 2 vocabulary and powerful knowledge.
Retrieval practise and precision teaching is used daily in maths, spelling, punctuation and grammar and foundation subjects to retain knowledge.
Reading, phonics, vocabulary and spelling are taught systematically to master fluency, comprehension, language and prosody.
The learning sequence over a term follows our curriculum model (MAKS) Mastering the Application of Knowledge and Skills.
Learners complete an assessment question to analyse mastery of skills and knowledge learnt in the foundation subjects. Assessment is also ongoing through retrieval practice, low stake quizzes, questioning and feed forward sessions. There is regular feedback between children and teachers. Core subject summative assessment takes place three times a year to inform teacher's knowledge of gaps in learning.





Recovery Curriculum 2020/21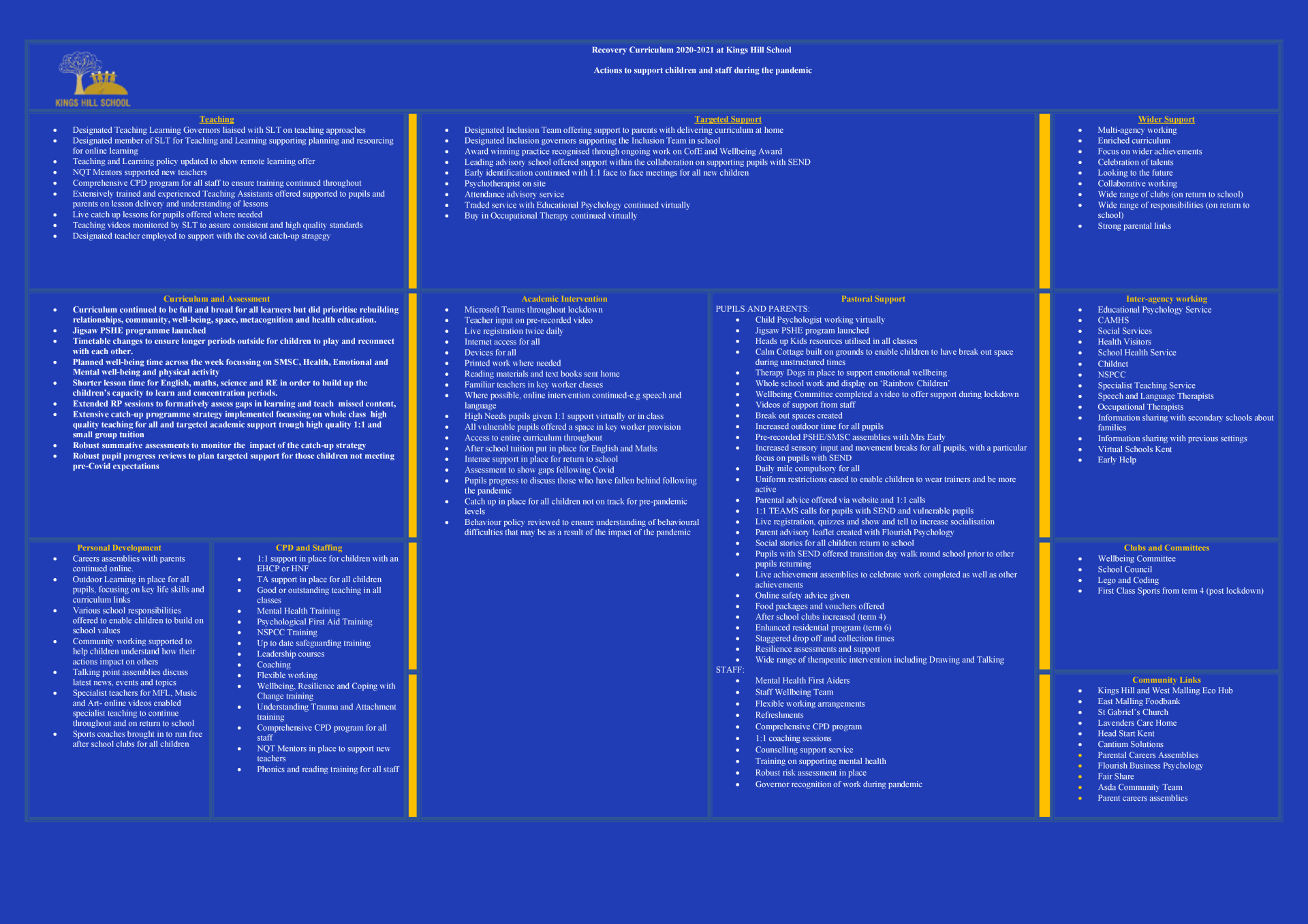 ENRICHMENT EXPERIENCES AND OPPORTUNITIES
COMMUNICATION
Public Speaking
School Council
Class Assemblies and Productions
EXPERTISE
Secondary School Workshops e.g. 'Thinking Skills'
Quiz Club
Careers Assemblies
Expert Visitors
INNOVATION
STEM Ambassadors
STEM Club e.g. Go-Karting Designers
Digital Leaders
Musical Creativity – Instruments and Music Technology
Young Enterprise Project Y6
INDIVIDUALITY
Talking Point Assemblies
Debating
Values Ambassadors
REAL WORLD ENGAGEMENT
Outdoor Curriculum and Life Skills
Cookery Programme and Roots to Food
Eco Committee; Recycling and Pollution
International School Links – France
Charity Committee
Community Outreach Projects
WELLBEING
Wellbeing Committee
Sensory Room & Resources/Calm Cottage
Therapy Dog
Extracurricular Clubs
Play Leaders
Running


IMPACT
COMMUNICATION
Our pupils are secondary ready as motivated learners able to communicate to others clearly and articulately. They have a love of reading and literature with a well-developed vocabulary.
EXPERTISE
Our pupils are knowledgeable in a broad range of subjects. They are keen to expand and deepen their learning further with a thirst for learning. The majority of children will have achieved key expectations in all programmes of study and some will have exceeded expectations by making deeper links across subjects.
INNOVATION
Our pupils have well developed enquiry and investigative skills. They are creative, imaginative and resourceful. They embrace new technologies and show competencies such as problem solving, risk taking, planning, leadership and team working ensuring that they are well placed to be entrepreneurs of the future.
INDIVIDUALITY
Our pupils are self-confident individuals with a strong moral compass ensuring respect and understanding of equality, fairness and diversity. The values of responsibility, kindness, courage, cooperation, resilience and respect are deeply embedded.
REAL WORLD ENGAGEMENT
Our pupils are global citizens with a well-informed understanding of the world around them, the importance of community and topical issues that affect everyone's lives such as climate change. They have an appreciation of the outdoors and an ability to be self-sufficient young adults.
WELLBEING
Our pupils integrate health and wellbeing into their daily lives. They are physically active and are resilient to set backs with a positive mind-set. They develop healthy relationships and are respectful to themselves and others online.

CURRICULUM MAPS

EYFS
Term 1 curriculum map
Year 1
Year 2
Year 3
Year 4
Year 5
Year 6
KNOWLEDGE ORGANISERS
Year 3
Year 4
Year 5
Year 6
READING, WRITING & MATHS CURRICULUM EXPECTATIONS