School Council
At Kings Hill we have a very active School Council where all year groups are represented throughout the school.
Our School Council is full of dynamic and hard working pupils who are determined to make a difference in our school. I thoroughly enjoy working with them every Thursday and they never fail to astound me with their ideas and dedication. I am extremely proud of our School Councillors and it is an honour to work with them!
What do our School Council do?
This is what they said .......
We can influence and make decisions to improve our school.
We are the voice for our class.
We allow pupils to not be in the background but to come forward with their ideas.
We support our school and all the children.
We are involved with the outside community.
We are chosen by our classmates to be their representative.
You can spot us around school because we wear our School Council badges.
We can help make Kings Hill School a better place.
What have we been involved in recently?
We have been working with a School Council from a school in London called John Stainer in Lewisham
We have carried out a survey in school about behaviour and safety and have then used those results to improve our school.
We monitor our House Buddies and check that they are wearing their bibs at play times.
We have spoken to our Parish Council.
We have been involved in a campaign to make speeding posters to be used around Kings Hill.
We have carried out an INSTED inspection of our school !
School Council 2017/2018
Oliver (Gorillas)
Zoya (Pandas)
Evie (Seals)
Kaylen (Polar Bears)
Sophie (Penguins)
Amiee (Dormice)
Oliver (Bats)
Lexi (Hedgehogs)
Emily (Macaws)
Jessica (Ocelots)
Toby (Dolphins)
Eloise (Sharks)
Ava (Year R & 1 representative)
The school council will meet each week to discuss projects that we hope to work on as well as sharing ideas and discussion from their classes. Some of these will include;
They will be involved with a collaboration project with the John Stainer School in Lewisham which was set up last term. This will enable them to see how another school council works and share ideas with like-minded people. We hope to take a group of children from the school council to visit them.
They will also be involved in a Healthy School check providing their input regarding personal & social health, healthy eating, physical activity and emotional wellbeing.
We would also like to get involved with a national school council organisation and will let you know more later on in the year.
School Council Innovation Summit
Members of our school council were excited to go on a trip to London to take part in a School Council Summit at Beecroft Primary School. They were one of four schools invited to share ideas and express their opinions about our school and offer advice and suggestions for the other schools taking part. The other schools that took part were John Stainer School, St John the Baptist and the host school, Beecroft Primary.
The day was split into four sessions;
Ice breaker to get to know each other.
Presenting a description of our school and two strengths.
Play and getting to know each other time.
Innovation forum.
The children presented a description of our school using pictures on a powerpoint. They then answered questions posed by the children from the other schools and articulated their responses brilliantly. After this they went on to talk about two aspects of Kings Hill that they saw as strengths. This was a tricky category as when we talked about this beforehand they came up with at least eight ideas. We voted together and decided to share the Reading dog scheme that we run at school (which recently won the Root of It 2017 Reading Dogs Award) and Friendship around school (incorporating house buddies, the buddy bench, manners as well as adult role models). The children expressed their opinions fluently and clearly explained why they chose these two strengths to share with everyone.
They then explored the outside area of the school along with the other children, comparing Kings Hill and Beecroft Primary. When we returned back inside we started an innovation session and each school expressed an area they would like to work on. Kings Hill had thought about this at length before we went to the summit and agreed that we would like to explore healthy schools and specifically healthy lunches. We gathered some great ideas and you will find out more about this in the near future!
All the children were an absolute credit to the school and showed exemplary behaviour throughout the entire day. They thoroughly enjoyed the experience and have been inspired to take forward some fantastic new ideas.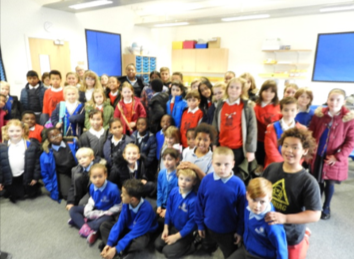 School Council 2018/2019
Sebastian (Year R and 1 representative)
Angelica (Year R and 1 representative)
Lucas (Year 2 Turtles)
Harry (Year 2 Seahorses)
Joshua (Year 3 Polar bears)
Evie (Year 3 Penguins)
Teddie (Year 4 Koalas)
Tom (Year 4 Kangaroos)
Alex (Year 4 Kookaburras)
Evelyn (Year 5 Leopards)
Alex (Year 5 Panthers)
Leo (Year 5 Ocelots)
Rio (Year 6 Sharks)
Molly (Year 6 Dolphins)
The school council will work together to look at different projects over the year and have already started discussing The Lunch Box Challenge to try and encourage children that have packed lunches to use less single use plastic. They have discussed this issue with their classes and will share ideas as a group to see how we can help in reducing the amount of plastic waste we create which is a very topical issue. There are more projects to work on over the year and we will update you on our progress over the year ahead.