British Values
The Department for Education states that there is a need
to create and enforce a clear and rigorous expectation on all schools to promote the fundamental British values of democracy, the rule of law, individual liberty and mutual respect.
The government set out its definition of British values in the 2011 Prevent Strategy and these values were reiterated by the Prime Minister in 2014. At Kings Hill School these values are reinforced regularly in the following ways:
Democracy
Democracy is integrated within our school. Pupil voice as well as parent/carer voice plays a central part in developing school improvement priorities. Children have many opportunities for their voices to be heard through the School Council, Charity Committee, the Eco Committee and Sports Leaders. The election of the School Council members and the House Captains are based solely on pupil vote, reflecting our British electoral system and demonstrating democracy in action. We openly encourage children to share their views respectfully, whether this is during a class discussion or more formally in committee meetings.
The Talking Point assembly each week enables children to debate important issues and vote at the end voicing their opinion and exercising democracy in action. Ballot boxes are in all classrooms and are integrated into every day school life. Please see our page about the Talking Point assembly for more information.
The Rule of Law
Children are taught to understand the value and need for laws; that they are there for individual protection, the responsibilities that this involves and the consequences when laws are broken. Children and staff follow the Behaviour Policy and clearly understand the rewards and sanctions that are used. Assemblies and discussions in class focus on recognising right from wrong. Children have to abide by rules on a daily basis through school rules and these are support by the home-school agreement. They play by rules when representing their house or school at sporting events and workshops that they attend out of school. The 'House Point' system, 'Records of Achievement' and 'Celebration Assembly' positively highlights those adhering to the school rules and values. Consequences, in line with the school's Behaviour Policy, remind children that breaking the rules may impact on themselves and others. We encourage visits and assemblies from our local Police Officer and PCSO to reinforce this.
Individual Liberty
Children are actively encouraged to make choices as independent learners, knowing that they are in a safe and supportive environment. Children are taught to understand their personal freedoms and how to use these rights to best effect, for example E-safety, PSHE and RE education enable children to make choices in a safe manner. Through challenges in the classroom, participation in extra-curricular clubs and other opportunities to be on various school committees, pupils are given the freedom to make choices.
Mutual Respect
Our core value of respect permeates all areas of school life. Children learn that their behaviours have an effect on their own rights and those of others. As a core value of a school, respect is frequently discussed with the children through school assemblies, circle time and committee meetings. All members of the school community treat each other with respect and our behaviour policy reflects caring for, respecting one another and valuing everyone as individuals. We are aware at kings Hill School that it is important to teach children their place in a culturally diverse society by giving them opportunities to experience such diversity. During school assemblies we explore values that apply to all faiths and beliefs. A range of faiths, beliefs and festivals are explored in R.E lessons - all major faiths are studied over the different key stages in accordance with the School's Equality Policy. Classes are actively encouraged to visit other faith's places of worship, and where this is not possible, guest speakers are invited in to discuss what their faith means to them. Parents are also encouraged to participate in sharing aspects of their culture. A number of charities are supported by the school, both locally and globally, and these are chosen regardless of faith or belief.
Values Based Education
Our commitment to values based education underpins our approach to British Values.
In 2017 Kings Hill School became the first school in Kent to achieve the Values Based Education Quality Mark.
As well as the school's culture of core values being very strong, there is an exceptionally advanced promotion and understanding of British Values. A robust structure of initiatives, activities and common language ensures that consistency is key and even the youngest children are taught to understand and participate in active learning about British Values. Opportunities to take on responsibility are encouraged and older pupils have a deep understanding of the value of their contribution to the school and the community.
Our visit from Tom Tugendhat (MP for Tonbridge and Malling)
Democracy Week 2017
This week has seen the whole school engaging in the democratic process of election. The children have campaigned hard and it has been enjoyed by all. The week was centred around our school values which underpin all we do at school.
The week begun exploring the term 'democracy', finding out what this means to people in society and how it shapes our lives today. Within classes, children were divided into various parties, elected MCs (Members of Class) and discussed issues. As part of this, they determined key pledges that were based on a school, community and global level.
Having elected a leader, parties developed manifestos with key pledges and started to establish their campaigns. So begun the canvassing before school, during playtimes and even after school.
Thursday was hustings day and a special event for the school: we trailed through school in all colours, moving into the community to muster support for the respective parties. On our return, we initiated the hustings ceremony. All party leaders delivered fantastic, emotive speeches, engaging their audience well. All was said and done – now the vote!
Throughout the week, we also had an avid team of reporters who ran the 'KHS Daily', bringing up to date news to the electorate and even running opinion polls in the playground. They did a superb job!
Friday 9th June 2017, Kings Hill School Polling Day. Everyone participated, placing their ballot slips into the boxes. There was one thing left to do: count up and see who would be the Prime Minister of Kings Hill School 2017-2018.
The Mayor of Tonbridge and Malling (Councillor Roger Dalton) was at the proceedings to announce the winner of the vote alongside Kent Messenger who have covered the event. It is with pleasure that we can announce that the Prime Minister of Kings Hill School is Evan Fitzgerald from the 'Preservative Party, the Blue Circles."
Evan was congratulated by the Mayor and Evan then made a speech to the whole school saying that "he hoped he would be able to keep his promises." Evan also thanked all the other Party Leaders for their hard work and commitment to their causes too.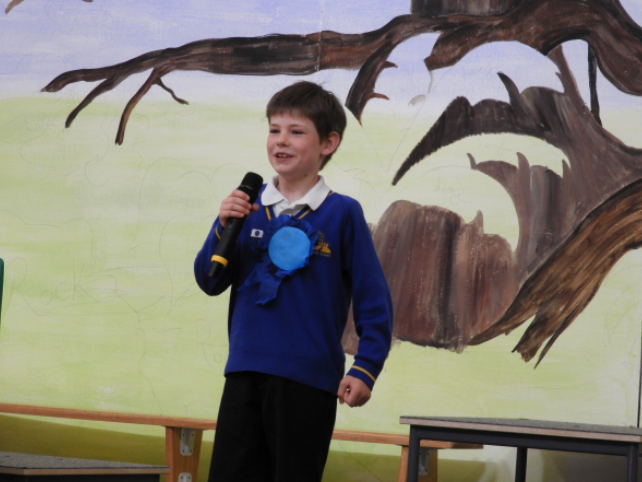 Well done to all the children who wholeheartedly embraced Democracy week, learnt so much about the voting process and respected each other's views. Well done also to all the Party Leaders who delivered excellent speeches and are all future politicians in the making !